April 3, 2020
Quote of the Day
You gain strength, courage, and confidence by every experience in which you really stop to look fear in the face.  You are able to say to yourself, "I lived through this horror.  I can take the next thing that comes along."
– Eleanor Roosevelt
This Day in History
April 3, 1776:  Congress authorizes privateers to attack British vessels.  Because it lacked sufficient funds to build a strong navy, the Continental Congress gives privateers permission to attack any and all British ships on this day in 1776.  In a bill signed by John Hancock, the Continental Congress issued "INSTRUCTIONS to the COMMANDERS of Private Ships or vessels of War, which shall have Commissions of Letters of Marque and Reprisal, authorizing them to make Captures of British Vessels and Cargoes."
Letters of Marque and Reprisal were the official documents by which 18th-century governments commissioned private commercial ships, known as privateers, to act on their behalf, attacking ships carrying the flags of enemy nations.  Any goods captured by the privateer were divided between the ship's owner and the government that had issued the letter.
Congress informed American privateers on this day that "YOU may, by Force of Arms, attack, subdue, and take all Ships and other Vessels belonging to the Inhabitants of Great Britain, on the high seas, or between high-water and low-water Marks, except Ships and Vessels bringing Persons who intend to settle and reside in the United Colonies, or bringing Arms, Ammunition or Warlike Stores to the said Colonies, for the Use of such Inhabitants thereof as are Friends to the American Cause, which you shall suffer to pass unmolested, the Commanders thereof permitting a peaceable Search, and giving satisfactory Information of the Contents of the Ladings, and Destinations of the Voyages."
The distinction between pirates and privateers was non-existent to those who faced them on the high seas.  They behaved in an identical manner, boarding and capturing ships using force if necessary.  However, privateers holding Letters of Marque were not subject to prosecution by their home nation and, if captured, were treated as prisoners of war instead of criminals by foreign nations.
Ojai Weather
Mostly sunny  –  High 70 / Low 40
Total rainfall for the season  –  15.23 inches
Lake Casitas Water Capacity  –  42.3%

Friday, April 3, 2020
2:45 p.m.
Have yourselves a good weekend!  Cheryl and I will be using the extra "shelter in place" time to do projects around the house (at least until the incoming rain hits).  Stay healthy and safe…
9:25 a.m.
Normally I would post a link for "Things to Do in Ojai," but as you might expect due to the numerous cancellations of events – there is no list to publish this week.
Pic of the Day
Thursday, April 2, 2020
4:15 p.m.
There are two new listings on the market:
10:20 a.m.
There are two new listings on the market:
On a topical note, I noted there was a news blurb about whether or not taking ibuprofen was advisable if someone had contracted the Covid-19 virus.  I quote, "At present, based on currently available information, WHO (World Health Organization) does not recommend against the use of ibuprofen" (emphasis mine).  Well that makes perfect sense!
Reminds me of another confusing phrase seen on a T-shirt, "Don't stop letting people not help."  (Courtesy of Impractical Jokers.)
Pic of the Day
Wednesday, April 1, 2020
1:20 p.m.
There are two new listings on the market:
Wow, the real estate market just keeps chugging along!  I'll tell you this; we have a ton of buyers coming out of the woodwork right now.  In fact, we're showing a couple of vacant properties later this afternoon (more on this in a moment), and yesterday we received two calls from past clients/contacts who want to know about specific properties.  Although there have been 10 properties withdrawn from the market since March 1st, the biggest indicator of where the market is right now is reflected in how many properties have become pending sales since March 1st – 39!  Of those 39, 19 of them became pending sales on March 12th or later, the point at which we probably all knew that Covid-19 was going to be part of our lives for a while.  Point is, things are still moving along.
The California real estate community, as a whole, is still trying to figure out how to handle sales at this point.  Many parts of the transactions are going strictly virtual – especially the lending, escrow, title, and general paperwork side of things.  But some parts of the business, namely open houses and broker previews, are forbidden at this time.  How we're to handle showings on current listings is the biggest issue right now.  The State of California says that real estate is an "essential business" – and the California Association of Realtors (CAR) agrees, however, county regulations have the final say.  There is a big tug-of-war going on right now between CAR and the various MLS systems – you can show property with the proper safeguards, you can't show property under ANY circumstance…they still haven't figured it out.  In the last 24 hours we've received several emails from CAR, the VCCAR (Ventura County Coast Association of Realtors), and other entities that all explained their positions – none of them jiving with one another.  Use this form before showing property, don't use that form…email, email, email…it's all still in flux.
So far it appears Ojai realtors are showing properties under certain guidelines (you can see some of those guidelines laid out in our blog post of March 23rd).  As I mentioned, we are showing two properties today – and here is what that will look like:  Both properties are vacant.  On both properties, the listing agent will arrive beforehand and open all doors and access points, turning on all lights.  The listing agent will then leave.  Cheryl and I will be meeting our clients at the property, initially keeping social distancing measures as we initially greet them (this is our first time meeting them so we want them to see our faces), immediately followed by donning N95* masks as we do the walk through.  We will wear the masks from that point on until we are done showing both properties and arrive back at our home office.  We will also be supplying booties for ourselves and our clients to be worn during the showings.  During the showings we plan on touching nothing inside or outside the homes.  We have copious amounts of hand sanitizer at the ready, if needed.
[*Before we get any blowback from anyone about having the N95 masks – we did not panic order/buy these.  We have a small handful of them left over from the Thomas Fire in 2017.  I didn't even discover they were N95 masks until a couple of days ago, when cleaning out the garage (one of the many "projects" I'm tackling during this time).  I knew we had masks, but I thought they were just cheap dust masks.  Imagine my surprise when I saw "N95" on the box.  Anyway, we only have a few of them and they'll be used sparingly.  Today's showing will be the first close contact we've have had with anyone in just about two weeks (we haven't needed to do any grocery shopping).  If this thing carries on for another couple of months, I imagine we'll be wearing scarves or homemade masks like everyone else.]
Finally, I've been running quotes on "strength" for the past several days,  I've tried to stay away from posting the obvious ones you've already seen out there, but since I just read The Diary of Anne Frank for the first time about 6 months ago, I do like this one I've seen floating around the internet.  It's something along the lines of:  "Anne Frank and 7 other people hid in a 450 sq. ft. attic for 761 days.  We can do this."  I also want to point out that they lived the entire time with all the windows covered and never went outside.  It's all about perspective, isn't it?
~ Ray
Pic of the Day
Tuesday, March 31, 2020
3:00 p.m.
11:10 a.m.
There is a new listing on the market:
Pic of the Day
Monday, March 30, 2020
12:30 p.m.
There are three new listings on the market:
Pic of the Day
Friday, March 27, 2020
3:00 p.m.
I mentioned some new listings were coming up…here's a couple of them:
There are two new listings on the market:
669 Brier Street – withdrawn from the market (as of this writing, the link still shows as "active").
Once again, no open houses this weekend.  I have updated the list of things to do, but virtually all events are being held on-line.  Finally, to close out today – I've mentioned some of Cheryl's "isms" in the past?  I heard a new one this morning:
Cheryl:  "Why can't people be more ept?"
Me:  "Ept?"
Cheryl:  "Yeah, the opposite of inept."
Sounds reasonable to me…
10:45 a.m.
608 E. Ojai Avenue – back on the market (had been expired) and increased from $475,000 to $485,000.
Just an FYI – yesterday we headed an all-Ojai agents and brokers video conference with about 40 or so realtors from the Ojai valley.  The general topic of discussion included; how many of you are actively engaged with buyers and sellers right now, if you are showing property – how is that being handled, are you experiencing a surge in people looking to buy in the near future, and do you have listings coming up?
The consensus was; yes, there are many agents who are actively engaged with clients, agents are showing properties (see the guidelines outlined in our blog post of March 23rd), there are indeed people out there looking to buy, and there are sellers who intend on listing their homes in the next few weeks.
The continuing movement in the market is, of course, dependent on how the spread of Covid-19 pans out for Ventura County.  As of 6:00 p.m. yesterday there were 61 confirmed cases in Ventura County out of 1,288 tests – a ratio of .047 of tests that came back as positive for the virus.  (Data courtesy of VC Emergency.com)
Staying on topic, here's a list of Ojai valley restaurants that are open for take-out and/or delivery (courtesy of the Ojai Valley News):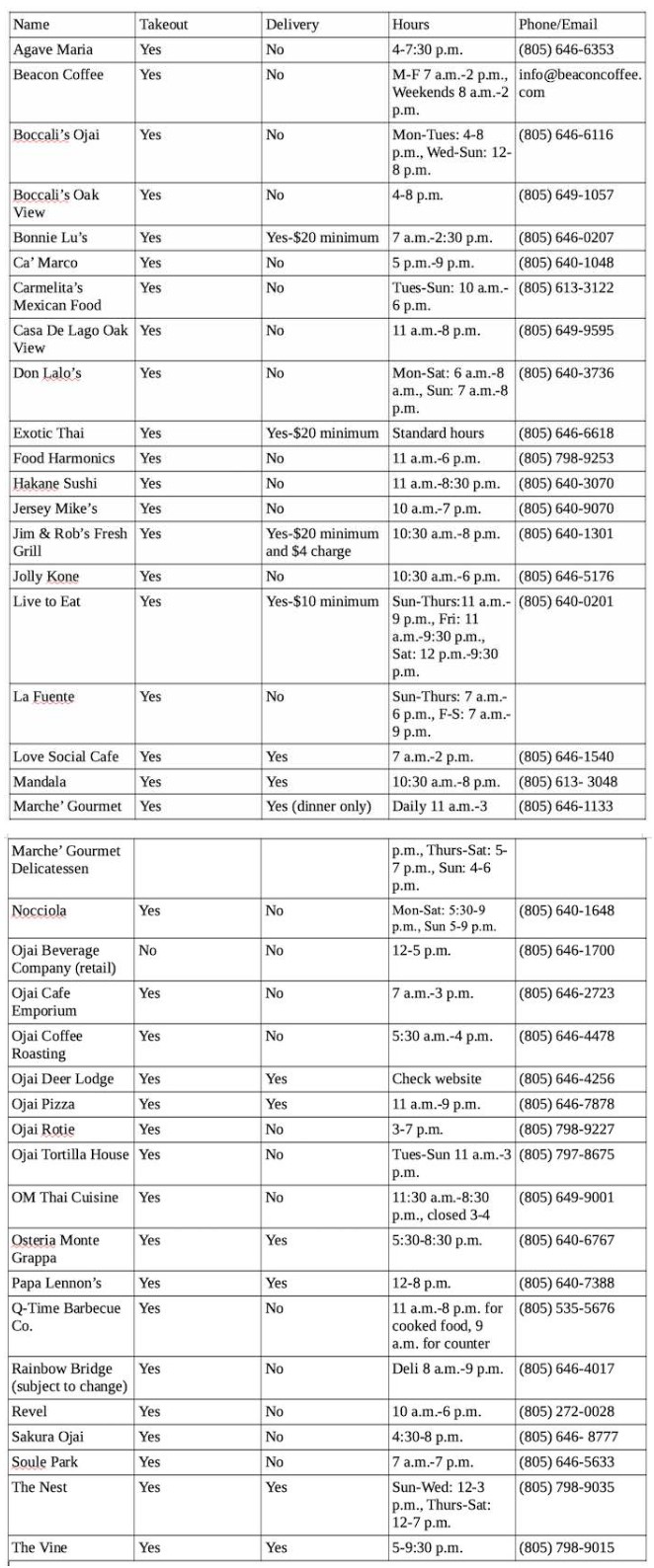 Pic of the Day
Thursday, March 26, 2020
3:35 p.m.
No other changes for today.
10:55 a.m.
Even though there have been 15 listings in March that have come back on the market after being in escrow, there have been 35 other listings that have gone into escrow and thus far remain so.
Pic of the Day
Wednesday, March 25, 2020
4:30 p.m.
11:55 a.m.
There is a new listing on the market:
Pic of the Day
Tuesday, March 24, 2020
1:10 p.m.
Pic of the Day
Monday, March 23, 2020
4:15 p.m.
As far as the Covid-19 crisis, here are our current thoughts and experiences – at least up to this moment:
Our other website, www.VenturaAndSantaBarbaraHomes.com, has experienced a 25% spike in sign-ups over the last two weeks (it's a registration-based site).  There are plenty of people out there still looking; whether they're willing to actually come out and look at a home in person…well, we're taking that one day at a time.  Our listing at 1101 N. Montgomery Street was recently shown on Thursday.  We have two of our listings in escrow, one of which just went into escrow a few days ago.  Thus far, the Ojai valley has seen 30 new listings come on the market in March, and 31 existing listings go "pending."
This morning we had a virtual meeting with other agents and brokers of Keller Williams West Ventura County, of which roughly 80 people attended.  Cheryl and I specifically asked the following question of other agents:  "What are you seeing out there? Are you showing buyers properties?  Are sellers still allowing showings?"  Here were some of the responses:
"I'm still showing property."
"I have written 3 offers this weekend."
"There are still a lot of buyers out!  We are busier now than 3 weeks ago!"
"I'm still showing and doing open houses as I promised."
"I have a new listing and sellers are more than happy to have it shown.  I have environmental controls in place and available for viewers."
"I'm still working and using safe social distance and sterilization procedures."
"I open up the house and ask that they don't touch anything, so the public or agents never touch the lock or doors….I open it all up for them."
Not one agent piped up and said they had zero activity or that buyers or sellers are scared and doing nothing.  Of course, all of this may change in the coming days or weeks should things take a bleak turn.
~
Our guidelines for dealing with listings, showings, and other sales-related activity were presented as such:
"Showings of your listings can continue but cannot be business as usual.  All showings must be by appointment and if possible, you should be present to make sure safety procedures are taken on behalf of your seller.  Have gloves and booties available. Masks are also recommended.  Prospective buyers must enter the home one by one and be instructed to not touch any surfaces.  Have wipes by the door so they can wipe the doorknob as they enter and exit."
"Inspections and appraisals can continue but must follow the same procedures as showings.  Inspectors, appraisers, and any other party should enter the property alone and take proper precautions.  There may be fewer vendors available in the trades (electricians, plumbers, etc.), so we recommend using Porch (https://www.repair-estimate.com) as a resource, as they are able to provide quotes for repairs based on the home inspection report."
~
Virtually all open houses have been cancelled for the foreseeable future.  As far as new listings coming on the market, it would appear that most agents are going to turn towards virtual tours or videos of the home interiors in an effort to give the public a more substantial view of a home and its value.  Although some agents feel this is "the same" as having a person look at a house in person, we don't feel that is going to be an effective way to sell a house in the long run.  If we end up in a "shelter in place" scenario for any length of time (a month or more), we could see the housing market more or less coming to a standstill.  If there is good news, it's likely that once we're past the worst of it, the housing market will explode with pent up demand.  As you may know, March and April are typically the hottest home selling and buying months of the year.  It could be a crazy summer. 
However the next few months unfold – even if business shuts down entirely for a while – we'll keep plugging along.  As they say, "Just keep on keeping on."  Here's to continued health for all, and don't forget to plug into nature – tapping into it is a great elixir for the mind/body/soul.
~ Ray, Cheryl, Maria, Sheryl, Rob & Paul
10:15 a.m.
There are two new listings on the market:
Later today, I'll have an update on how the Ojai market is dealing with the times – and specifically – what safety measures are being put in place by our team and our fellow Keller Williams agents.
Pic of the Day
Friday, March 20, 2020
5:35 p.m.
There is a new listing on the market:
Have yourselves a safe, but enjoyable weekend – get outside and enjoy nature!  There are no published open houses, so the list has not been updated.
11:20 p.m.
There are three new listings on the market:
Here's some good news for a change of pace!
Pic(s) of the Day
Thursday, March 19, 2020
2:15 p.m.
There's still beauty out there – if you look for it!  (Photo taken today from Santa Ana Rd.)
7:35 a.m.
No changes yet for today.
Pic of the Day
Wednesday, March 18, 2020
6:15 p.m.
There is a new listing on the market:
910 Ventura Avenue – $279,000.  The verbiage on this listing is unclear; this is either a business opportunity (the retail business only) or a commercial property for sale.  I have it under "Business Opportunity" on the All Listings page.
9:50 a.m.
Pic of the Day
Tuesday, March 17, 2020
3:05 p.m.
507 Park Road – sold for $776,000 (originally listed for $799,000).  Congrats to our clients/sellers and to teammate Sheryl Whipple for procuring this listing and getting it sold!
12:15 p.m.
There is a new listing on the market:
Pic(s) of the Day
Photos taken yesterday; nature just keeps on moving.
Monday, March 16, 2020
4:10 p.m.
Once again, this isn't Ojai-related – but congrats to our clients/buyers and teammate Rob Perron for closing a deal in Santa Paula at 1204 Manzanita Drive.  Rob is off to a tremendous start this year!
11:25 a.m.
Pic of the Day
Friday, March 13, 2020
3:00 p.m.
The open house list has been updated!  You might want to double check with the other listing agents to make sure the open houses haven't been cancelled, be it because of the potential rainy weather or virus fears.  We will be holding two of our listings open; 180 N. Poli Street on Saturday and Sunday from 1:00 to 4:00, and 1101 N. Montgomery Street on Sunday from 1:00 to 4:00.
Finally, we do have an updated list of things to do in Ojai (courtesy of the Ojai Valley News), but you should double-check prior to attending any listed event.  Have a great weekend, enjoy the rain, and stay safe…
7:55 a.m.
Because there have been so many event cancellations, the Things To Do list has been temporarily suspended until coronavirus fears have subsided.  (Speaking of which, I don't understand the panic buying on toilet paper??)
Pic of the Day
Thursday, March 12, 2020
7:10 p.m.
To hell with "The Virus" – there are four more new listings on the market:
12:55 p.m.
There is a new listing on the market:
Here's a quick market update with regard to mortgages and interest rates, courtesy of Emily Wilson at Heritage Financial – our most trusted loan broker and mortgage advisor – located right here in Ojai.
"It's a very odd time in the industry right now and unlike anything I've ever seen.  There's a great disconnect in where rates should be and what lenders/banks are actually passing along, and it's because of volume.  Companies were already beyond capacity before the Fed's took action and have no choice but to increase their rates to deter additional applications from flooding into over-saturated pipelines.  An additional contender is the increased cost of doing business in this kind of market.  Lenders lose a great deal of money when they renegotiate rates, don't close on a locked loan (presumably because the homeowner bailed in search of a lower rate) and when loans are paid off early.  Refraining from passing along low market rates is a measure for protection.  It allows them to get caught up, increase staffing and hedge costly operations.
All of this to say, rates are artificially high right now, regardless of what's happening in the markets and what the media purports.  I do anticipate lower rates in the weeks and months to come.  Lenders will get caught up, hopefully the dust will settle on emotionally-based trading and at the end of the day, the economic impact of the corona virus is very real.
I recommend checking back in on rates in a week's time.  The Fed's hold another press conference on March 18th and we're hoping to see interest rates come down a bit in the days leading up to it and in its wake."
Pic of the Day
Oh, the irony…
(Yep, this is real.  Cheryl found this on Ebay, however, the link to the product has been removed since.)
Wednesday, March 11, 2020
4:55 p.m.
8:10 a.m.
After a very dry February, this rain is certainly appreciated.  I will tally the rainfall amounts and post it under "Ojai Weather" above after a couple of days and this set of storms pass us by.
Pic of the Day
Tuesday, March 10, 2020- 
5:00 p.m.
There are two new listings on the market:
8:45 a.m.
Pic of the Day
Monday, March 9, 2020
4:00 p.m.
There are two new listings on the market:
3191 Ladera Road – $5,100,000.
11 Oak Drive – $2,499,000.  (Note:  This came on the market earlier this afternoon, but has since been withdrawn.)
12:20 p.m.
There is a new listing on the market:
Pic of the Day
Husband to wife:  "Hey honey, let's see the neighbors keep up with our lifestyle after they see our new kitchen."
[Looks out his back window…]
"Son of a …..!"
Friday, March 6, 2020
3:00 p.m.
522-544 Good Hope Street – back on the market (had been a pending sale).
1133 El Centro Street – sold for $1,081,080 (originally listed for $1,120,000).  Congrats to our clients/buyers and to teammate Robert Perron for getting this one done!
The open house list has been updated.  Also, here's the list of things to do in Ojai.  Have a great weekend!
9:10 a.m.
We're holding a broker preview/caravan for our listing at 1101 N. Montgomery Street today from 9:30 a.m. to 12:00 noon.  You're more than welcome to stop by and take a look.  We just recently made this an Honorable Mention after lowering the price by $69,000 to $1,220,000.
Our source for the list of things to do in Ojai hasn't been updated yet.  I'll check on it later this afternoon and post it if it's been updated.
Pic of the Day
Thursday, March 5, 2020
4:20 p.m.
There are three new listings on the market:
We've learned not to prognosticate too often, but buckle up ladies and gents; we have a feeling the spring real estate market is going to be a wild ride!  If the 43 new listings in February are any indicator, we think there will be a ton of new listings coming up in the next two months.
10:10 a.m.
Pic of the Day
Wednesday, March 4, 2020
5:20 p.m.
No other changes for today, but the Ojai Market Data update has been completed.  It was a darn productive month, not only for real estate in general, but for our team as well!
12:25 p.m.
There are four new listings on the market:
Heads up:  We'll have the Ojai Market Data update coming for you later today!
Pic of the Day
Tuesday, March 3, 2020
1:30 p.m.
10:25 a.m.
Pic of the Day
"What are you doing up there?"
"I saw a mouse, dad…did you see it?  I swear I saw it – I saw it, I saw it!"
Monday, March 2, 2020
12:45 p.m.
There are five new listings on the market:
Pic of the Day