Note:  Some of the links in the table below may take you to a blank page with the verbiage, "This is not a valid link." These links have expired from the Ventura MLS and are no longer accessible.  Ojai MLS links are not affected in this way.
September 4, 2020
Here's the Ojai Market Data for August (data from 8/1/20 through 8/31/20):
50 new listings came on the market in August; 29(!) of these new listings are either pending sales or have already closed.  (In July we saw 34 new listings come on the market; 13 of them were pending or closed sales as of the date of our update.)
40 properties sold and closed in August (43 in July) – at an average of 93% of the original listing price when the property first came on the market (this figure was 95% for July).  Of the 40 properties that sold, 7 offers were at full price and 5 offers were over full price (in July there were 8 full price offers and 6 over full price).
A total of $48,170,227 worth of property was sold in the Ojai Valley in August ($45,271,154 in July), for an average sales price of $1,174,884 ($1,052,818 in July).  Nineteen of the 40 August closed sales were $1,000,000 or higher.
The average listing was on the market for 129 days* before receiving an offer (83 days in July).  There was an outlier in the August numbers, however, as one of the listings was on the market for 1,588 days.  If we remove that listing, the average time before receiving an offer drops to 92 days.
*Note:  If a property goes into escrow, but then falls out – we don't use that figure to calculate the number of days on the market before receiving an offer.  We instead are utilizing the number of days for the next offer that stays in escrow and closes.
There are currently 95 active listings on the market, not including properties currently listed as pending sales. (There were 89 active listings on the date of our market update for July.)  Here's how the current active listings break down:
45 residential listings
22 land listings
12 commercial listings
7 mobile home listings
6 residential income listings
1 residential/commercial listing
2 residential condo listings
0 business opportunity listings
Ojai sales-to-list price percentages, 8/1/20 through 8/31/20
Here's the list of the 40 properties that sold and closed, including the original list price (when each property first came on the market), the final sales price, and the sales-to-list price percentage.
Ojai Market Data – August, 2019 through August, 2020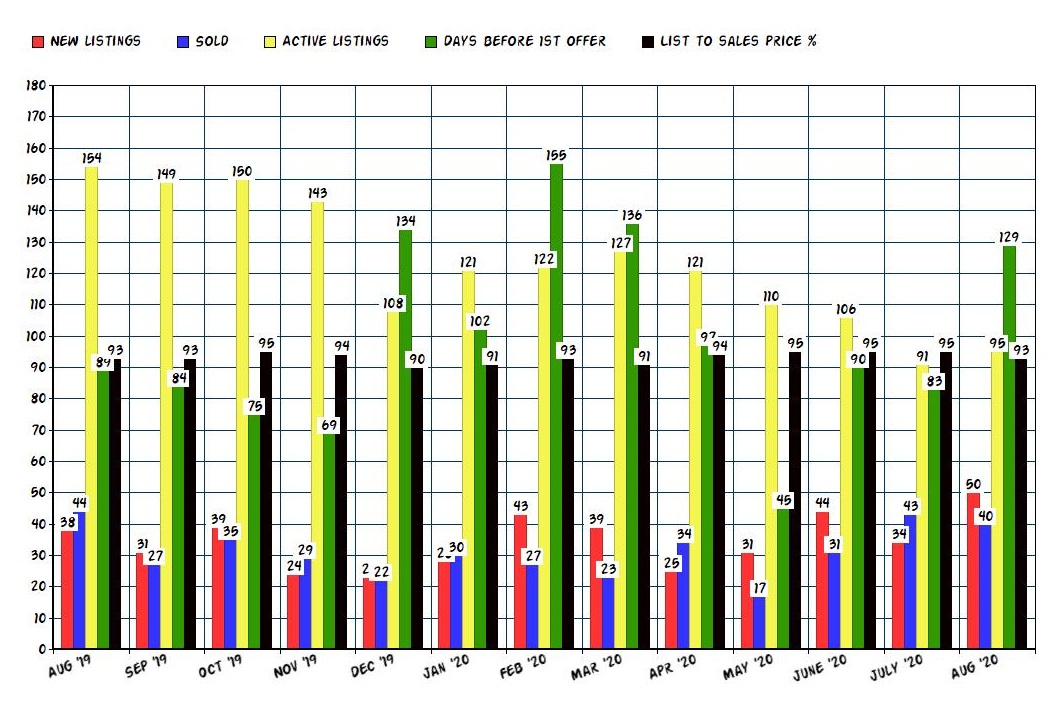 The market is still incredibly hot, as inventory is low – plus we're starting to see an influx of people outside of Ojai looking to get away from the bigger cities.  There hasn't been a better time to list a home over the last 15 years!
"Expert" prognosticators can't seem to agree on if and when this seller's market will end.  If you believe the market is going to experience a decline after the election, after the New Year, once we have a Covid vaccine, once mortgage forbearance ends, etc. – one thing you might consider:  Sell your home now to cash in on the hot market, rent a home for 6 months to a year, and ride it out to see what happens.