Note:  Some of the links in the table below may take you to a blank page with the verbiage, "This is not a valid link." These links have expired from the Ventura MLS and are no longer accessible.  Ojai MLS links are not affected in this way.
August 4, 2020
Here's the Ojai Market Data for July (data from 7/1/20 through 7/31/20):
34 new listings came on the market in July; 13 of these new listings are either pending sales or have already closed.  (In June we saw 44 new listings come on the market; 20 of them were pending or closed sales as of the date of our update.)
A total of $45,271,154 worth of property was sold in the Ojai Valley in July ($32,963,705 in June), for an average sales price of $1,052,818 ($766,598 in June).  These numbers were skewed quite a bit by one of the homes that sold – for $10,800,000.  If we remove that outlier, the average sale price in July drops to $820,742.
43 properties sold and closed in July (31 in June) – at an average of 95.14% of the original listing price when the property first came on the market (this figure was 94.84% for June).  Of the 43 properties that sold, 8 offers were at full price and 6 offers were over full price (in June there were 4 full price offers and 3 over full price)
The average listing was on the market for 83 days* before receiving an offer (90 days in June).
*Note:  If a property goes into escrow, but then falls out – we don't use that figure to calculate the number of days on the market before receiving an offer.  We instead are utilizing the number of days for the next offer that stays in escrow and closes.
There are currently 89 active listings on the market, not including properties currently listed as pending sales. (There were 106 active listings on the date of our market update for June.)  Here's how the current active listings break down:
53 residential listings
19 land listings
9 commercial listings
4 mobile home listings
3 residential income listings
1 residential/commercial listings
0 residential condo listings
0 business opportunity listings
Ojai sales-to-list price percentages, 7/1/20 through 7/31/20
Here's the list of the 43 properties that sold and closed, including the original list price (when each property first came on the market), the final sales price, and the sales-to-list price percentage.
Ojai Market Data – July, 2019 through July, 2020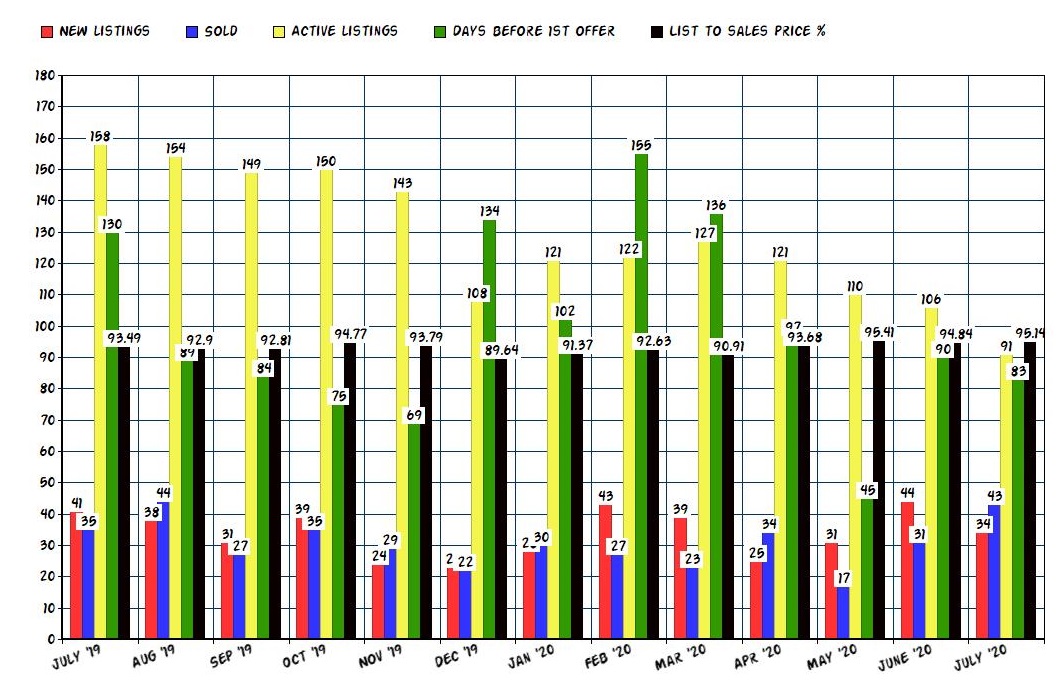 July, 2020 was one for the record books.  Our main brokerage, Keller Williams West Ventura County (which includes the Ojai office) experienced its best sales month, ever.  No one, I mean no one, saw this coming.  There were  43 closed sales in the Ojai Valley in July, the most in a single month since August of last year.  The predictions of a tanking real estate market were premature, at least thus far.  At some point we do believe we will see an influx of new listings coming on the market, mainly due to Covid-19 and the levels of unemployment were seeing.  At some point, forbearance from banks or not, some folks are likely going to need to sell their homes to get out any equity they may have.  It could be a rough fall/winter.
On the flip side, Ojai is seeing historic lows in active listings, with only 89 available properties as of this writing (of which, only 61 properties are homes you can live in).  We (Team Deckert) have been keeping statistics on Ojai Valley sales since October of 2015.  Inventory has never been this low; I'd say the average monthly active listings over the last 5 1/2 years has been about 150 each month.  In June, 2016 there were actually 203 active listings when we did our market update for that month.  So yeah, we are definitely short on inventory.
As a result of the low inventory, however, we are still seeing very brisk home sales in the Ojai Valley – plenty of full price and above full price offers!