Note:  Some of the links in the table below may take you to a blank page with the verbiage, "This is not a valid link." These links have expired from the Ventura MLS and are no longer accessible.  Ojai MLS links are not affected in this way.
May 6, 2020
Here's the Ojai Market Data for past month (data from 4/1/20 through 4/30/20):
25 new listings came on the market in April; 13 of these new listings are either pending sales or have already closed.  (In March we saw 39 new listings come on the market; 9 of them were pending or closed sales as of the date of our update.)
34 properties sold and closed in April (23 in March) – at an average of 93.68% of the original listing price when the property first came on the market (this figure was 90.91% for March).  Of the 34 properties that sold, 8 offers were at full price and 4 offers were over full price (in March there were 3 full price offers and 4 over full price)
The average listing was on the market for 97 days* before receiving an offer (136 days in March).
*Note:  If a property goes into escrow, but then falls out – we don't use that figure to calculate the number of days on the market before receiving an offer.  We instead are utilizing the number of days for the next offer that stays in escrow and closes.
There are currently 121 active listings on the market, not including properties currently listed as pending sales. (There were 127 active listings on the date of our market update for March.)  Here's how the current active listings break down:
77 residential listings
20 land listings
12 commercial listings
9 mobile home listings
2 residential income listings
1 residential condo listings
0 business opportunity listings
Ojai sales-to-list price percentages, 4/1/20 through 4/30/20
Here's the list of the 34 properties that sold and closed, including the original list price (when each property first came on the market), the final sales price, and the sales-to-list price percentage.
Ojai Market Data – April, 2019 through April, 2020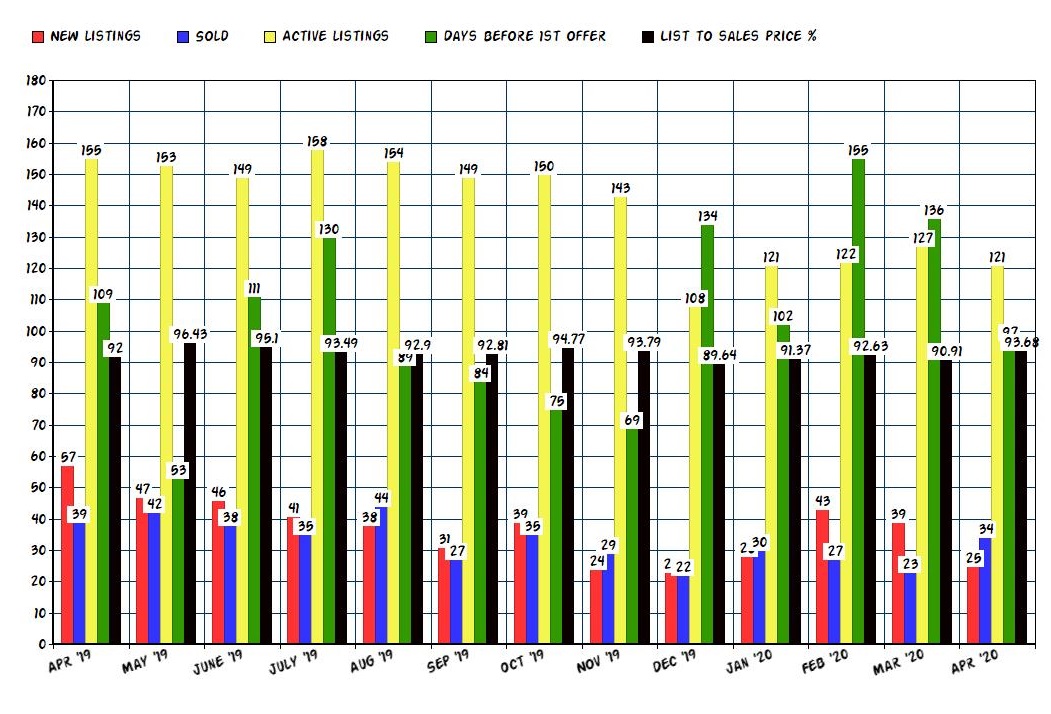 We finally see a little bit of the Covid-19 pandemic catching up with us this month.  Although 34 sales closed in April, many of those sales were likely put into escrow before we understood the severity of the situation – certainly before we were told to "shelter in place."  25 new listings for the month of April is definitely an indicator, as in the five years we've been compiling numbers for Ojai Market Data, there have never been less than 50 new listings in the month.
On the brighter side, despite recent newspaper articles referencing a drop in supply and demand, as far as actual sales prices go – we're not feeling too much of a dip right now.  Twelve out of April's 34 closings were either at full price or above full price.
In the meantime, we'll keep chugging along using the appropriate protocols until it's safer to return to normal (or the new normal, anyway).  Stay safe!