Best Buys in Ojai is an online real estate service provided by professional real estate Brokers Ray & Cheryl Deckert.  Our purpose is to highlight what we feel are the "Best Buys" in terms of what's currently available in Ojai real estate.  The homes you'll find here on Best Buys In Ojai are listings from ALL brokerages – not just our own – and include: Keller Williams, Coldwell Banker, Troop Realty, Prudential, Ojai Valley Real Estate, Ask Now Investments, and others.
And what, exactly, is a "Best Buy?"
In plain terms, it's a property or home for sale in the Ojai Valley that we feel offers tremendous value – value in terms of price, amenities, location, and/or more.  It's a property we've already previewed and approved, so we know our clients will love it. Because of this attention to detail, you can be assured that anything listed on Best Buys in Ojai is a choice property, and we feel confident that your time will not be wasted in viewing it.
We update this blog daily and have become a trusted resource in highlighting "Ojai's best" for both buyers and sellers.
The philosophy behind Best Buys in Ojai
We decided that we cannot be all things to all people.  There's a little too much of that in the real estate business, and people tend to spread themselves too thin.  So we focus on service for clients who are looking for such.  But what does that mean?  Everyone says they provide good service (would you expect anything less)?  To us, it means taking the time to actually preview every property before we put it on Best Buys In Ojai.  We've done the walkthrough, we know the layout, and we know the story.  Every property listed here has to pass muster.  This is actually pretty unique in our business.  If you've ever gone home shopping, you've undoubtedly been shown homes where the real estate agent is also seeing the house for the first time, which can turn awkward ("Oh gee…that big hole in the ceiling…that wasn't in the paperwork…heh heh, well, nothing a little plywood can't fix, right")?
So we use our experienced Realtor's eye and preview the properties first.  Not just looking for ceiling holes (although that's part of it), but finding those true hidden gems that discerning clients really want to see.  It works well for us, and it works well for our clients, too.  If you are looking to buy a home in Ojai, bookmark us and check back often (we update daily).  If something on the list piques your interest, give us a call and we'll make sure we get you in to see it.  If you are looking to sell, give us a call and we'll come take a look.
About Cheryl & Ray Deckert
To be honest, we love living in Ojai.  We've been here since 2005, and have really come to appreciate everything the area has to offer.  From the weather to the breathtaking scenery to the people, this has become home to us both.  Cheryl was born and raised in Long Beach, California and has been involved in real estate since 1980, where she sold elite homes and was a Premier Manager with Coldwell Banker.  Ultimately, she managed several locations throughout the Los Angeles and Orange County marketplaces before coming to Ojai.
Originally from Chicago, Ray spent many years in the insurance business (Kemper Insurance); that is, until Cheryl convinced him real estate was his true calling.  And she was right.  Cheryl enjoys gardening (she sometimes goes by the moniker "the crazy tomato lady"), painting, and drawing.  Ray is a car enthusiast and enjoys playing sports and music (he is a vocalist, percussionist, and keyboardist – having opened for such bands as Cheap Trick and Bachman-Turner-Overdrive back in the day).  We both love dogs – especially our pair of Standard Poodles, Leo and Logan.
Thank you for visiting, and we wish you all the best.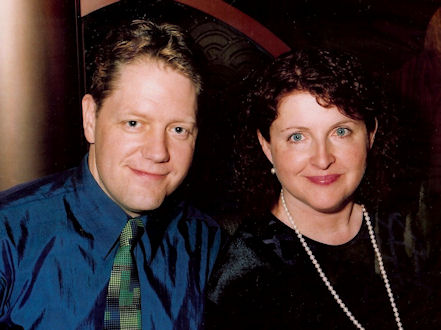 About Maria DePaola
Maria joined our team in September, 2015 and has been with the Keller Williams Ojai office since 2010.  Maria has been a great asset and luckily for us, she shares the same values in helping people and in her calm handling of potentially tricky real estate situations.  Maria's background in retail management (plus two restaurants!) is what she feels gives her the edge during potential situations of crisis.  She prides herself on her honesty, dependability, work ethic, and her desire to always be there for clients.  When not working she enjoys hiking Ojai's abundant trails, water aerobics, music, reading, and most of all – spending time with her children, friends and family.